German Village Lofts began in February 2020 with the purchase of 145 E Livingston Ave and 500 Margraff Aly, both of which had a lot of deferred maintenance and were in need of…some updating. Here are some pictures from the beginning: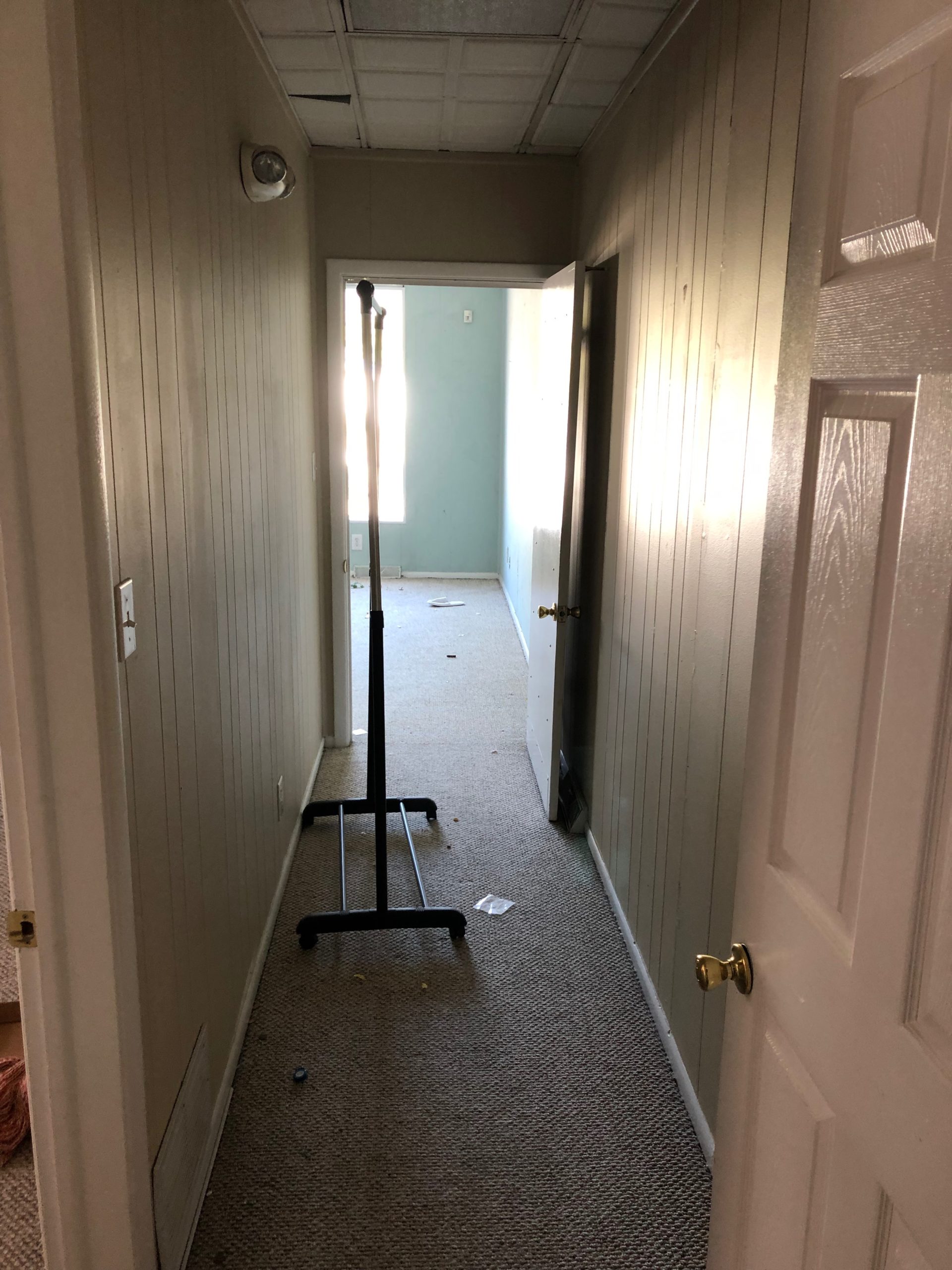 This is a hallway which is now the bathroom in Suite D.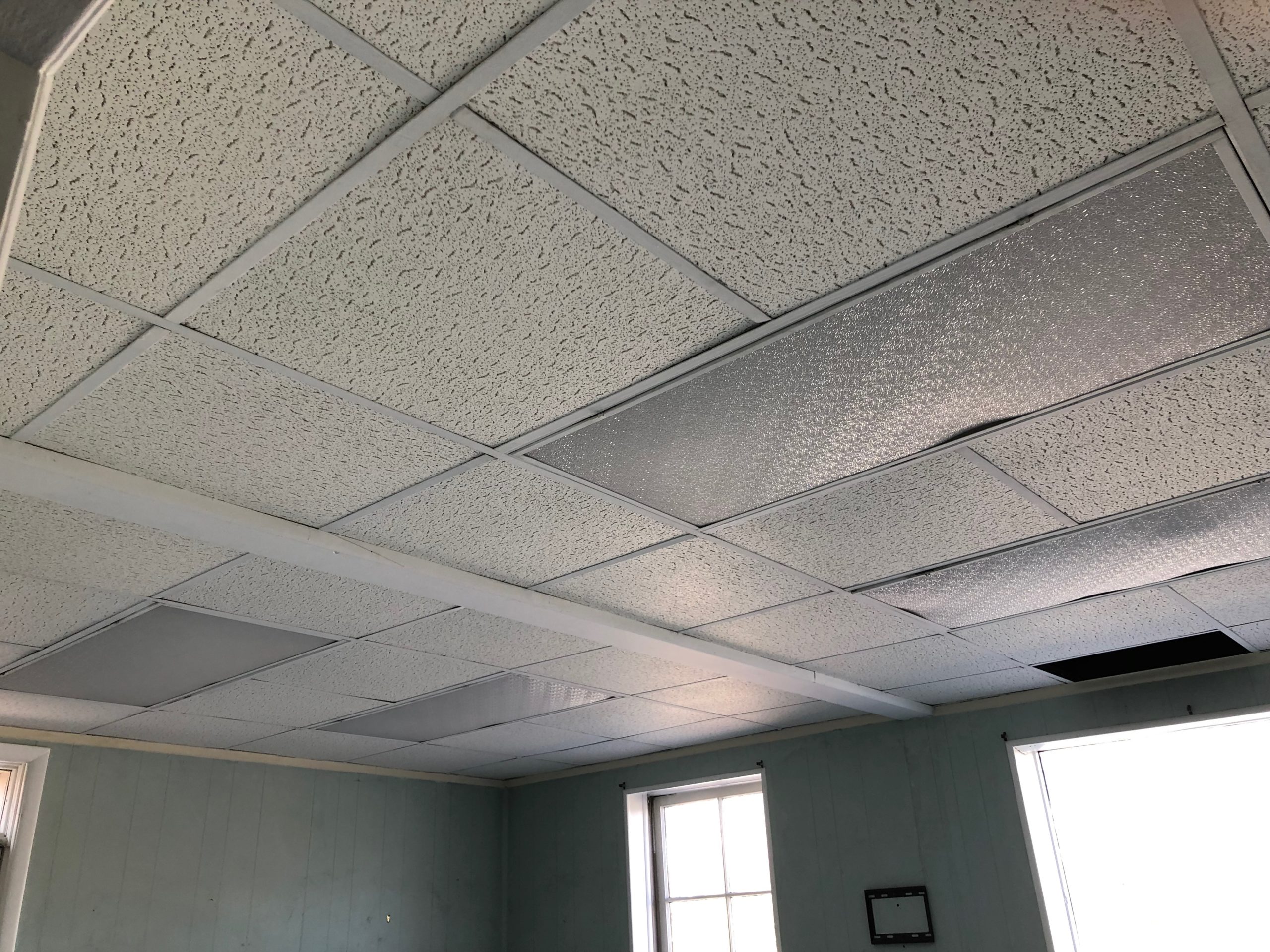 Drop ceiling which was removed and replaced with black exposed ceilings.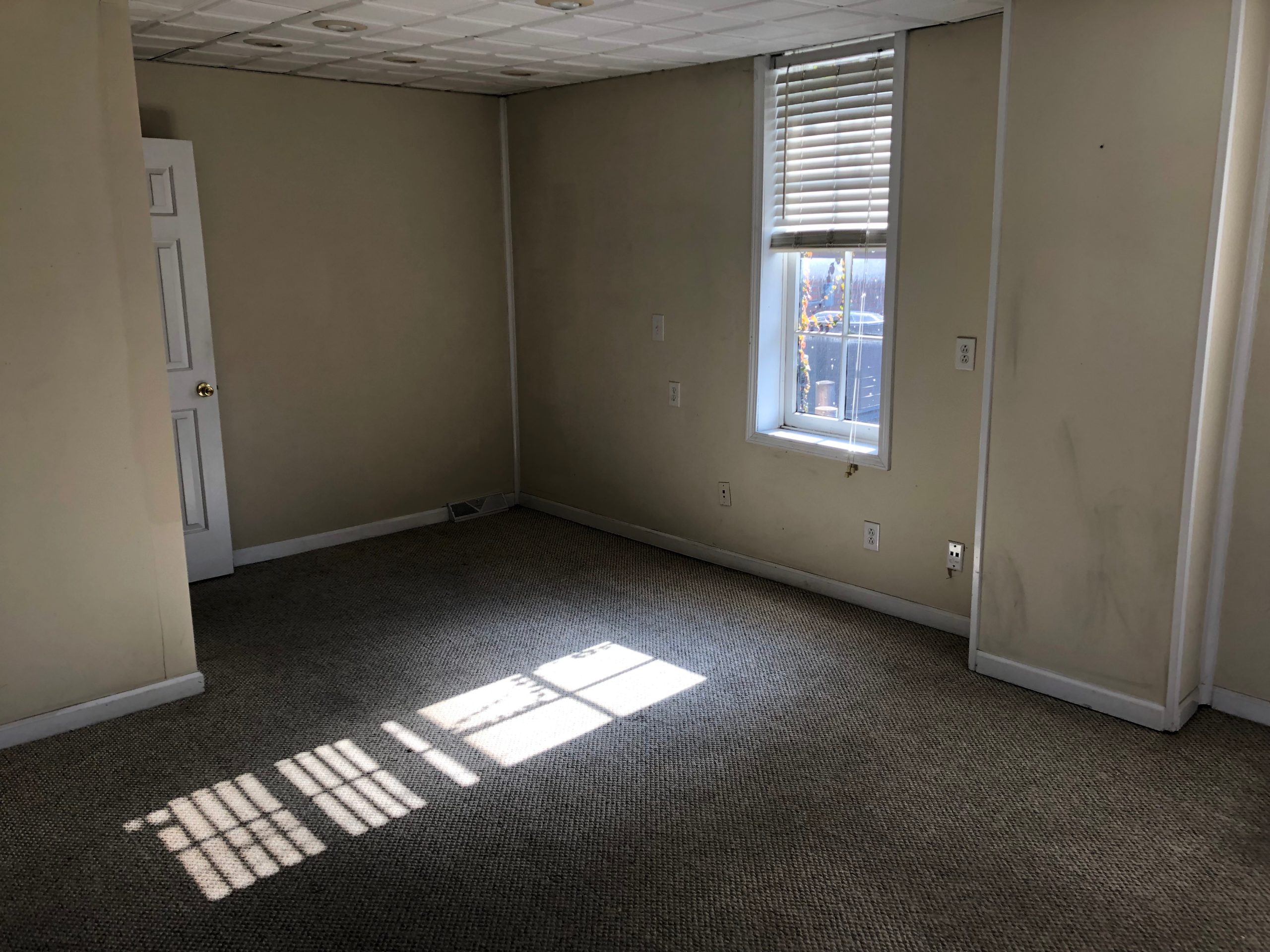 This is now Suite A.
Renovations began about a month ahead of COVID lockdowns starting here in Ohio.  500 Margraff Aly (Marienplatz Haus) was renovated first. Renovations included: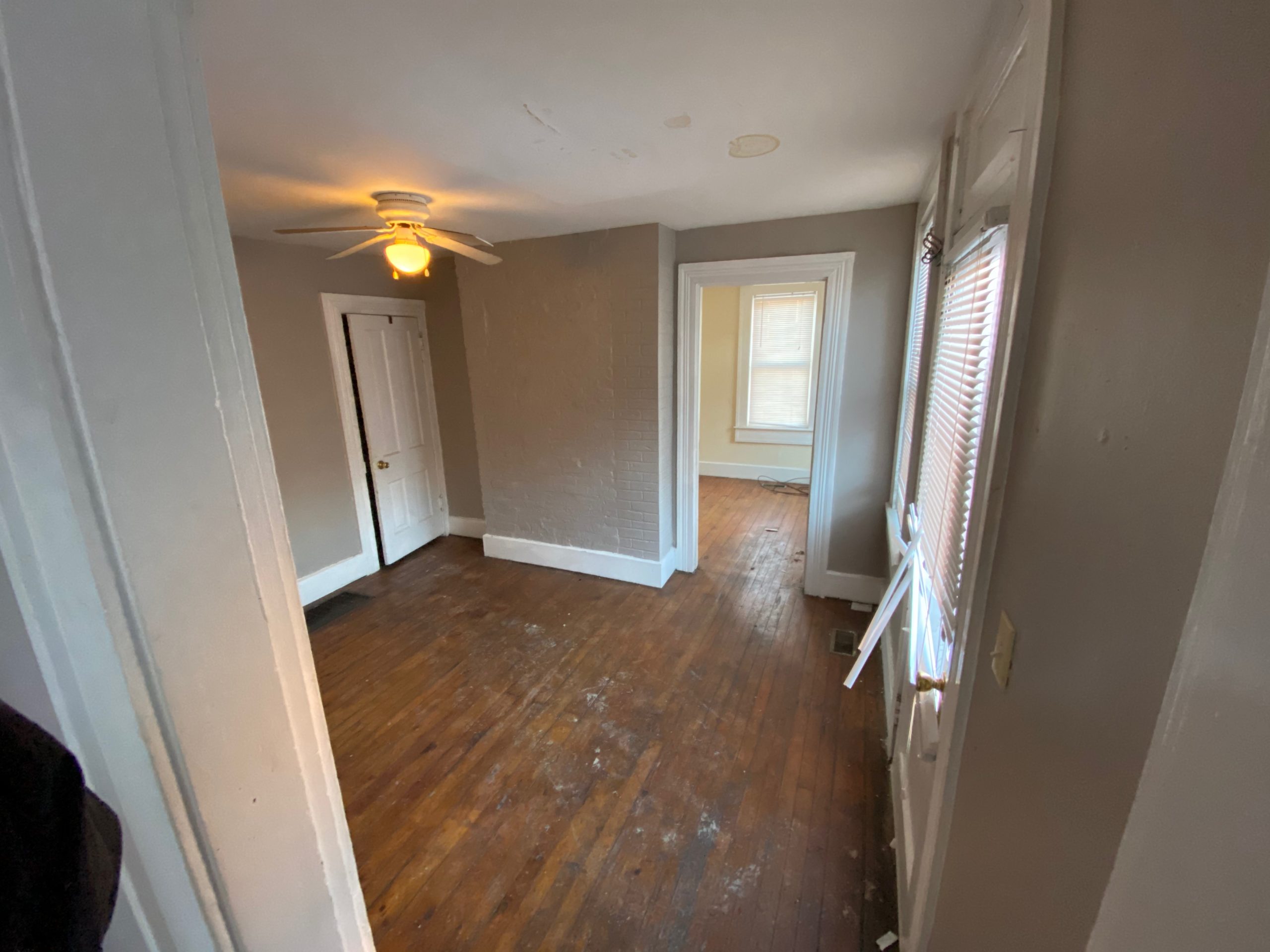 Hardwood Floors Before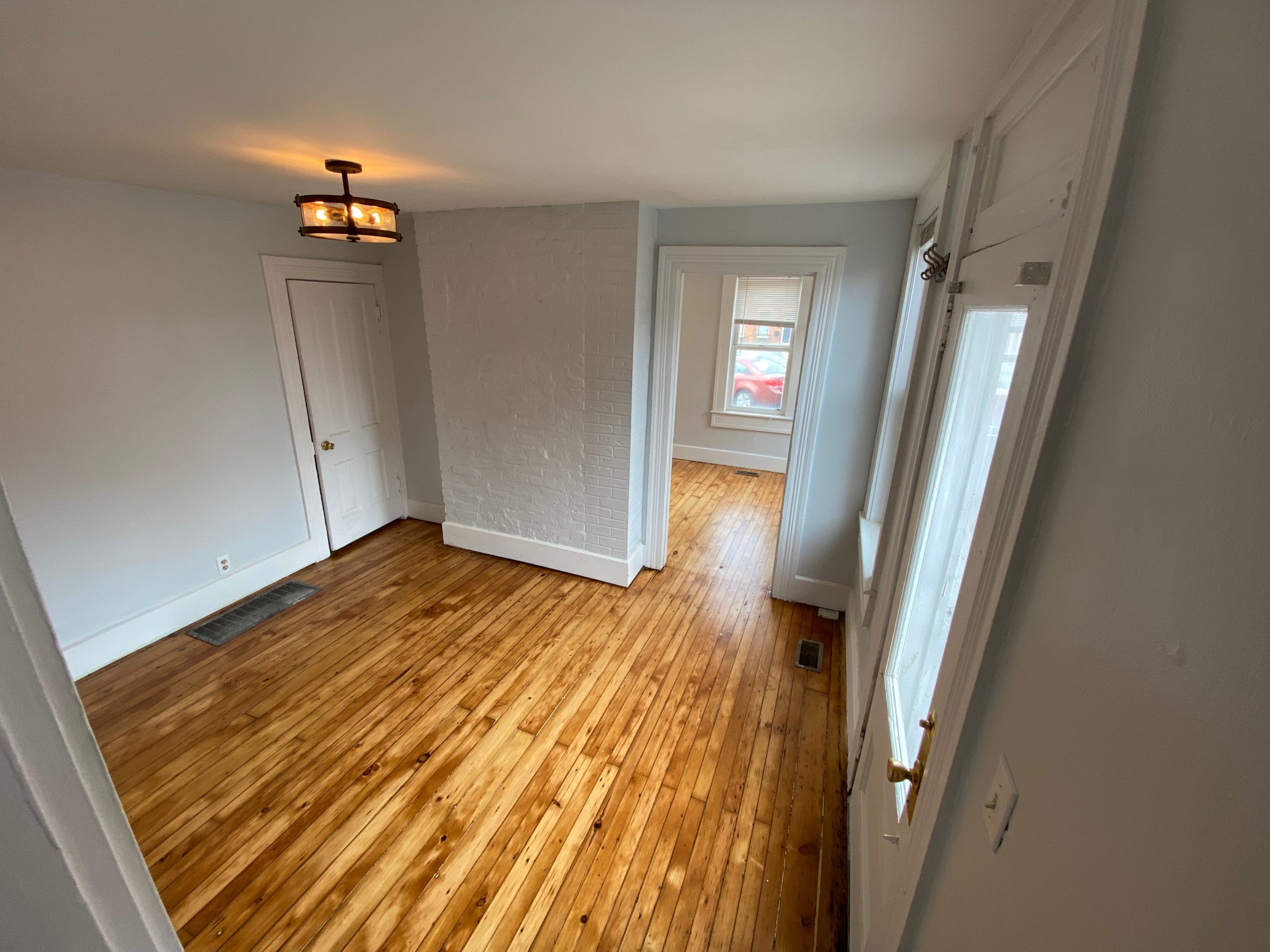 Hardwood Floors After
Refinishing of original hardwood floors in Living and Dining Rooms.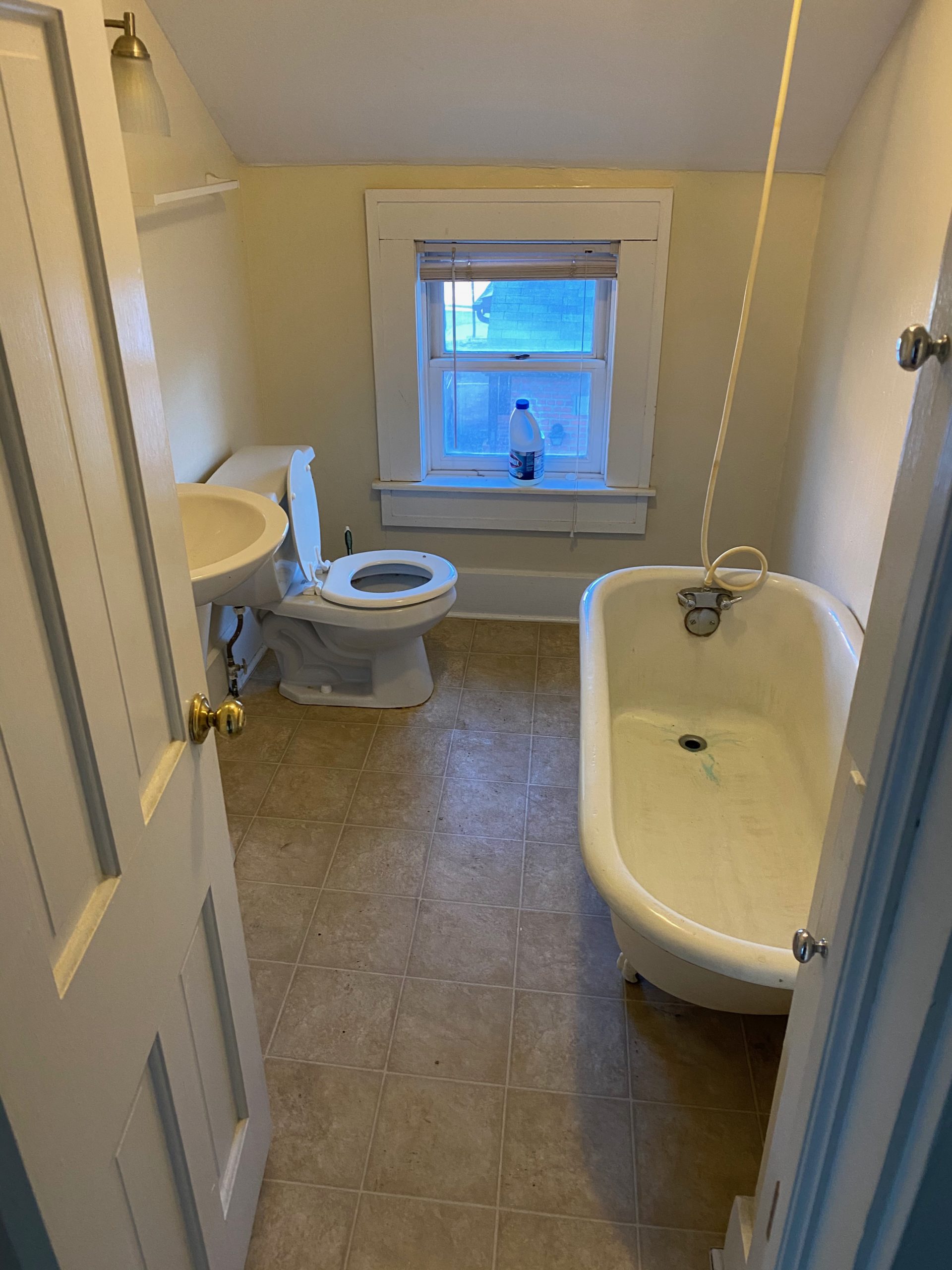 Original Bathroom with Clawfoot Tub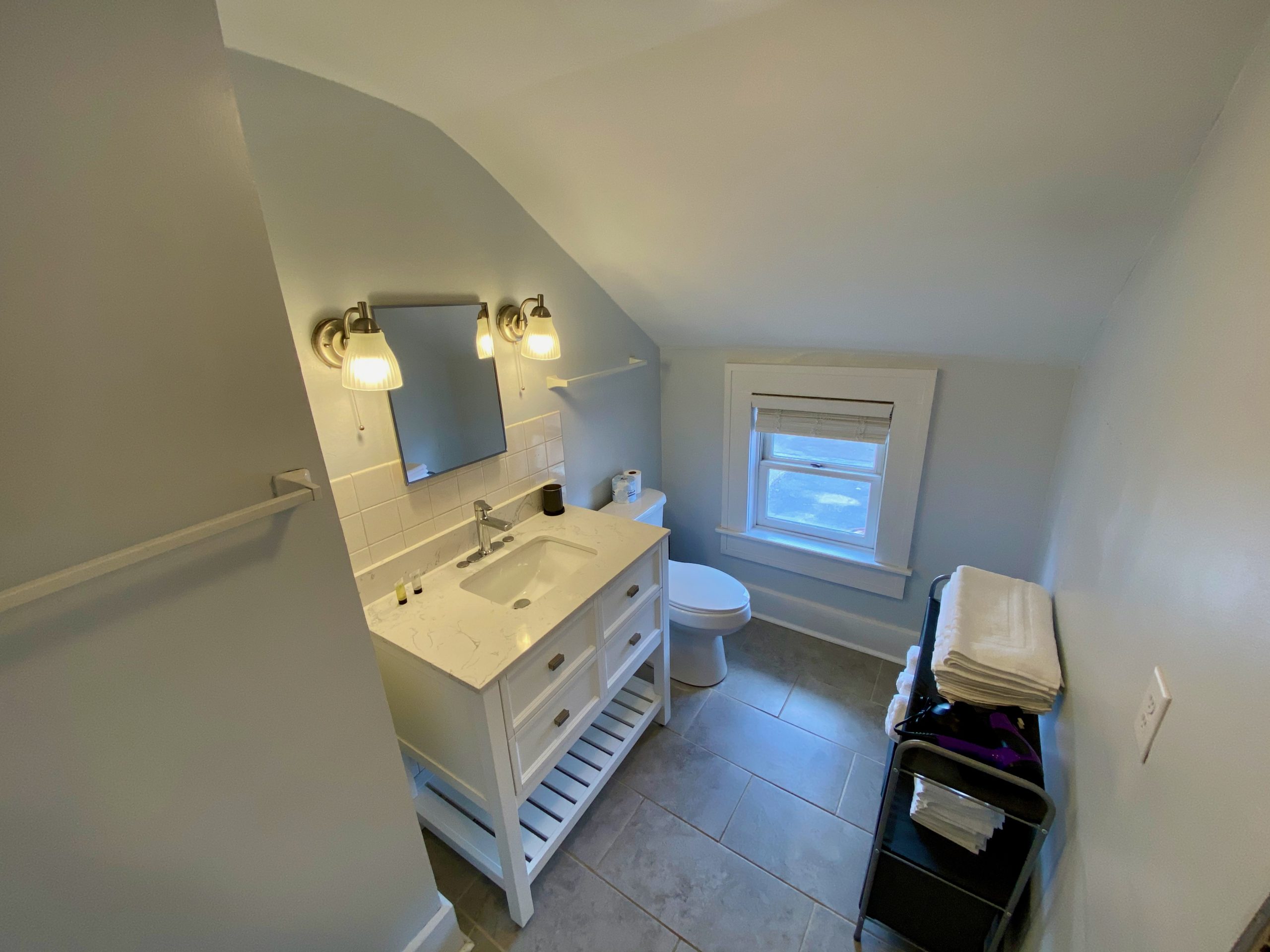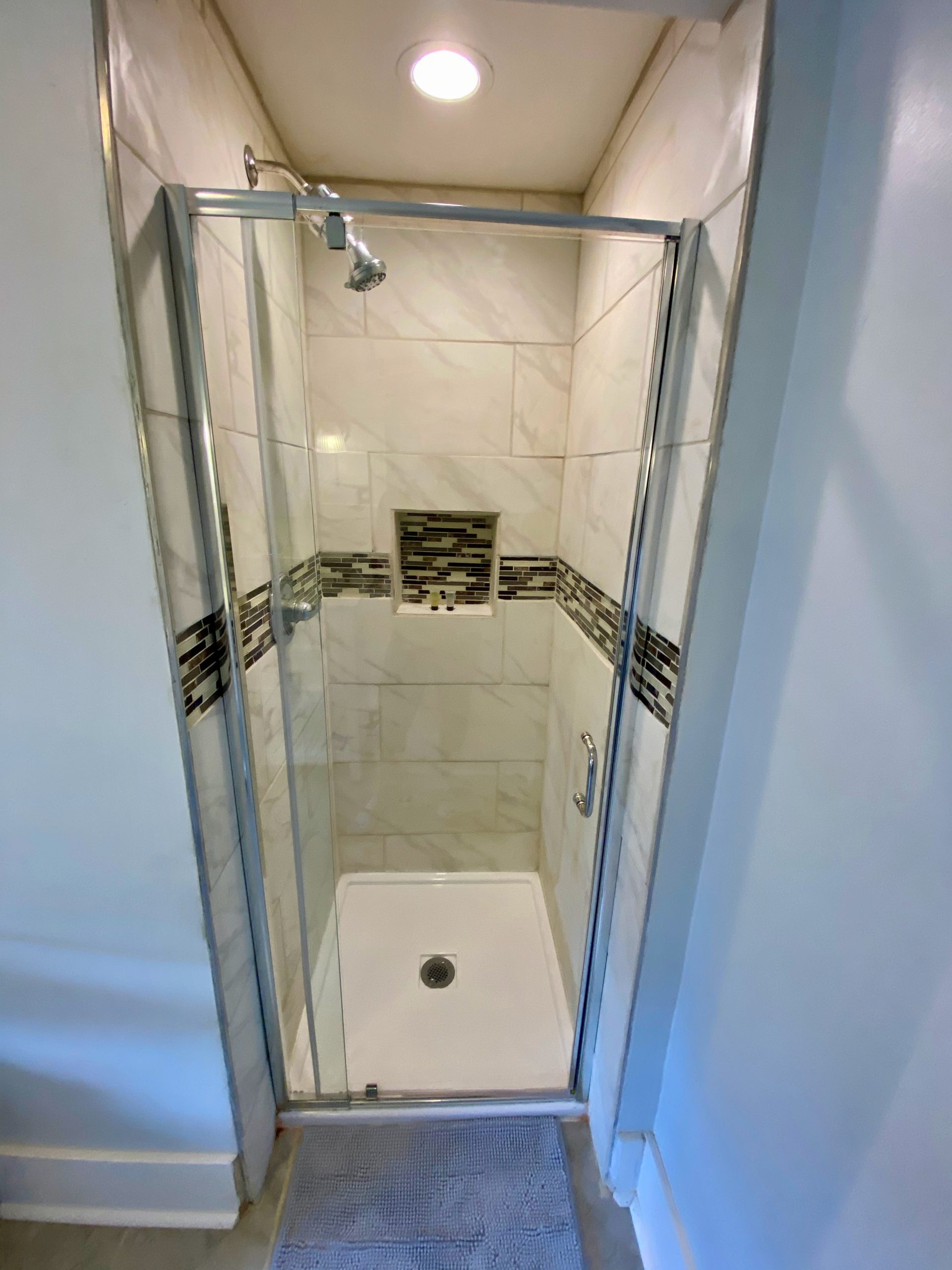 Renovated Bathroom with new flooring, vanity and walk-in shower
Removing claw foot tub and expanding bathroom into adjoining linen closet to add a walk in shower.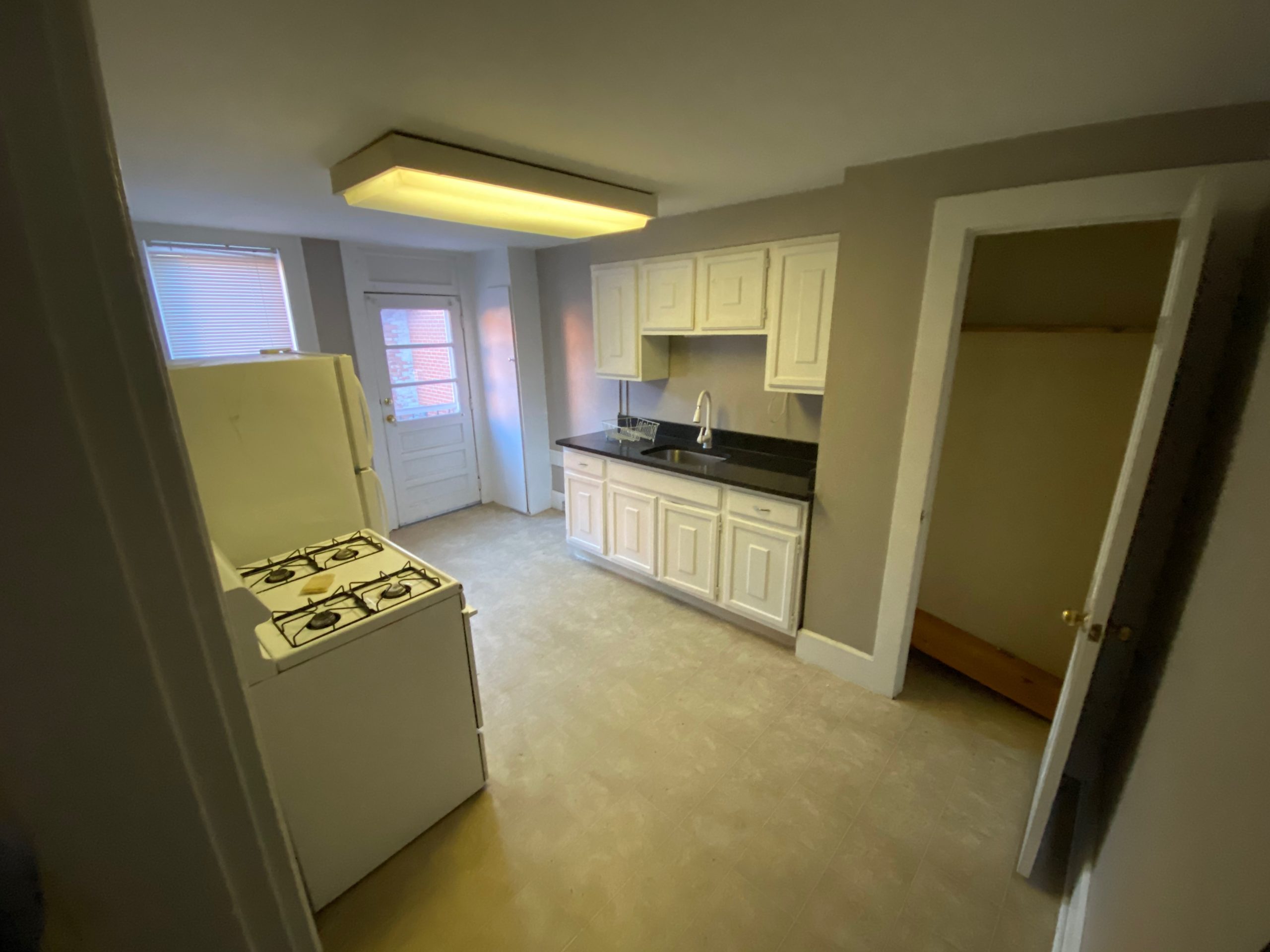 Kitchen Before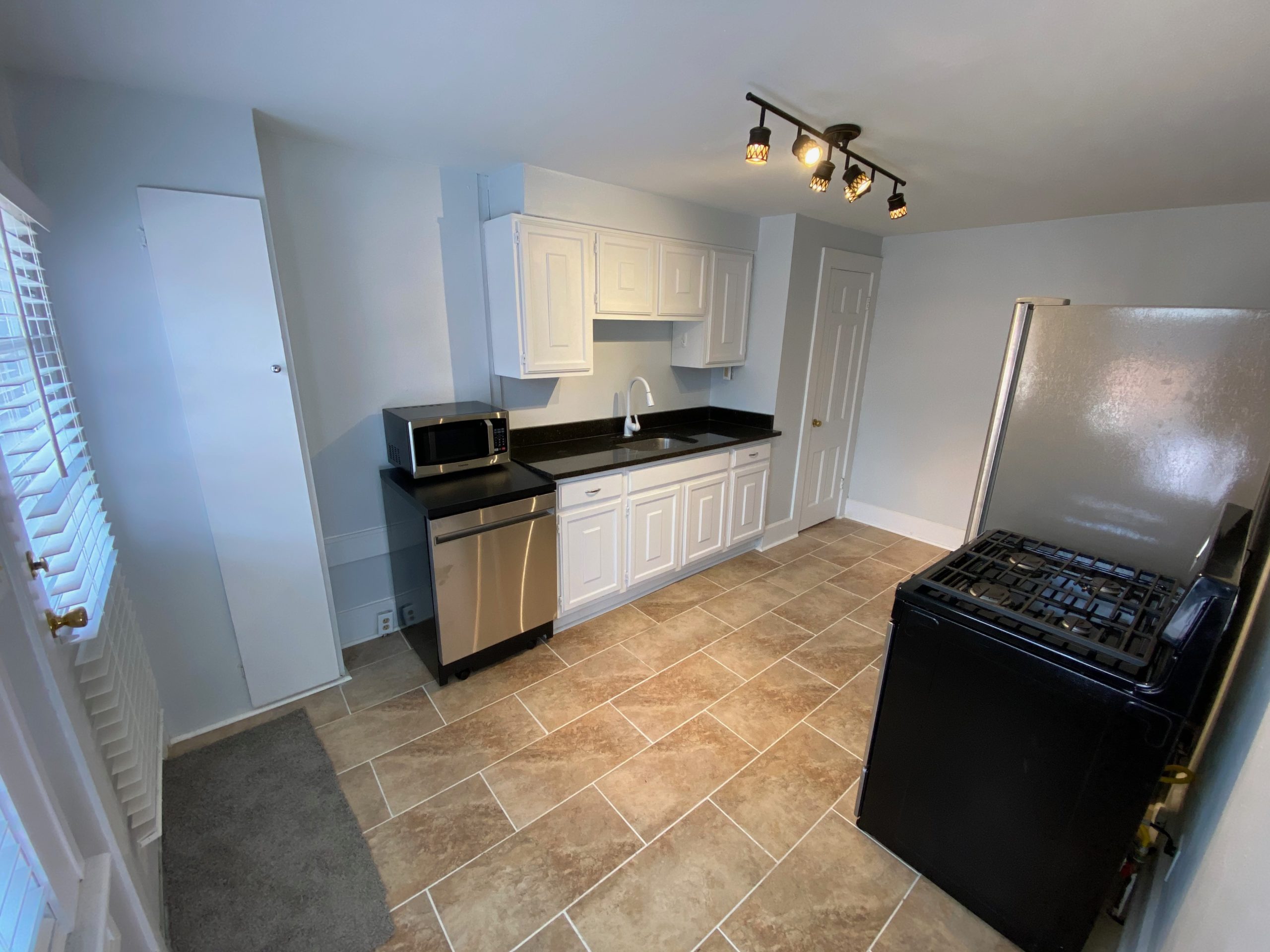 Kitchen After
Replacing laminate flooring with tile and adding new stainless steel appliances in the kitchen.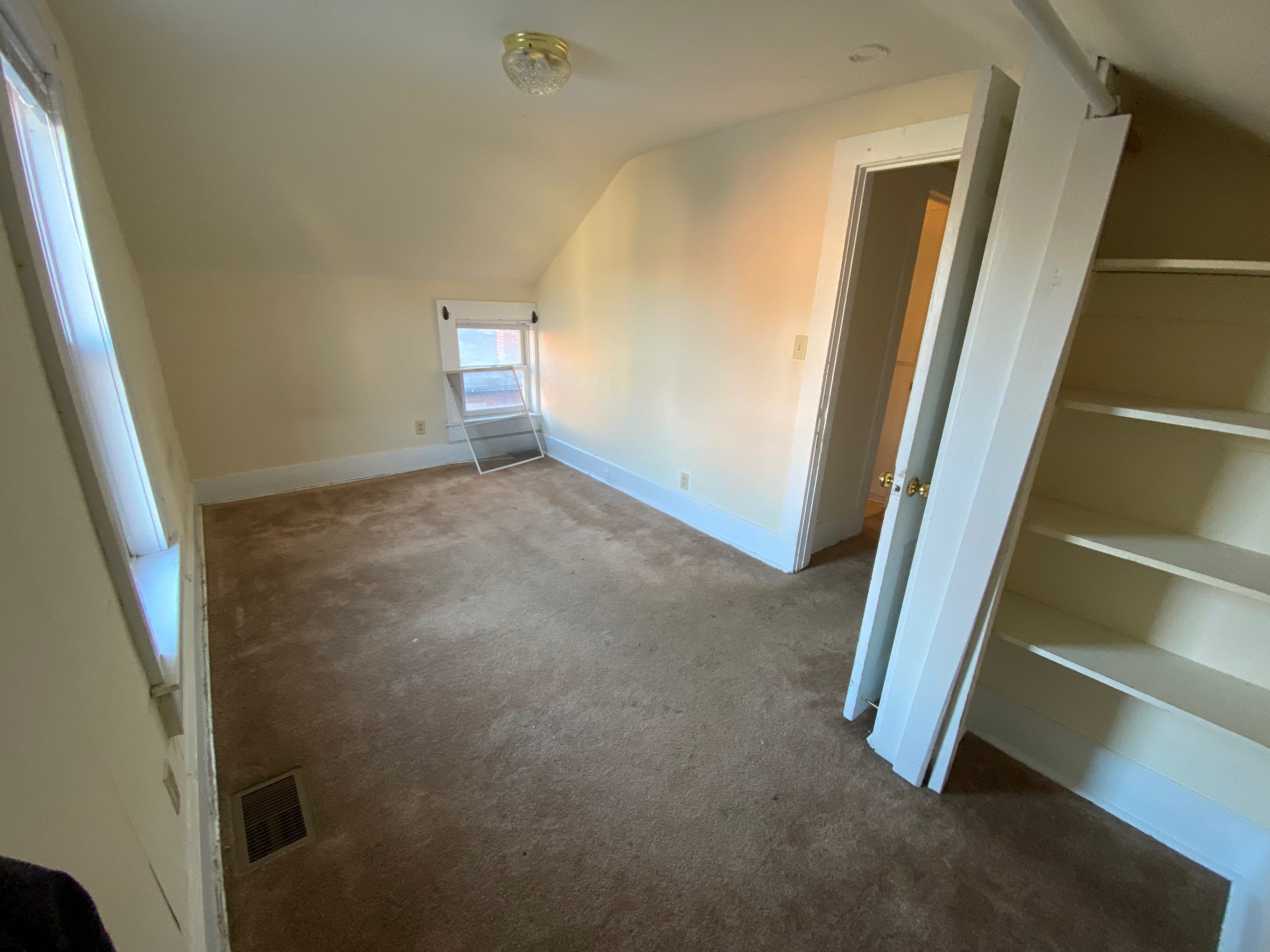 Bedroom Before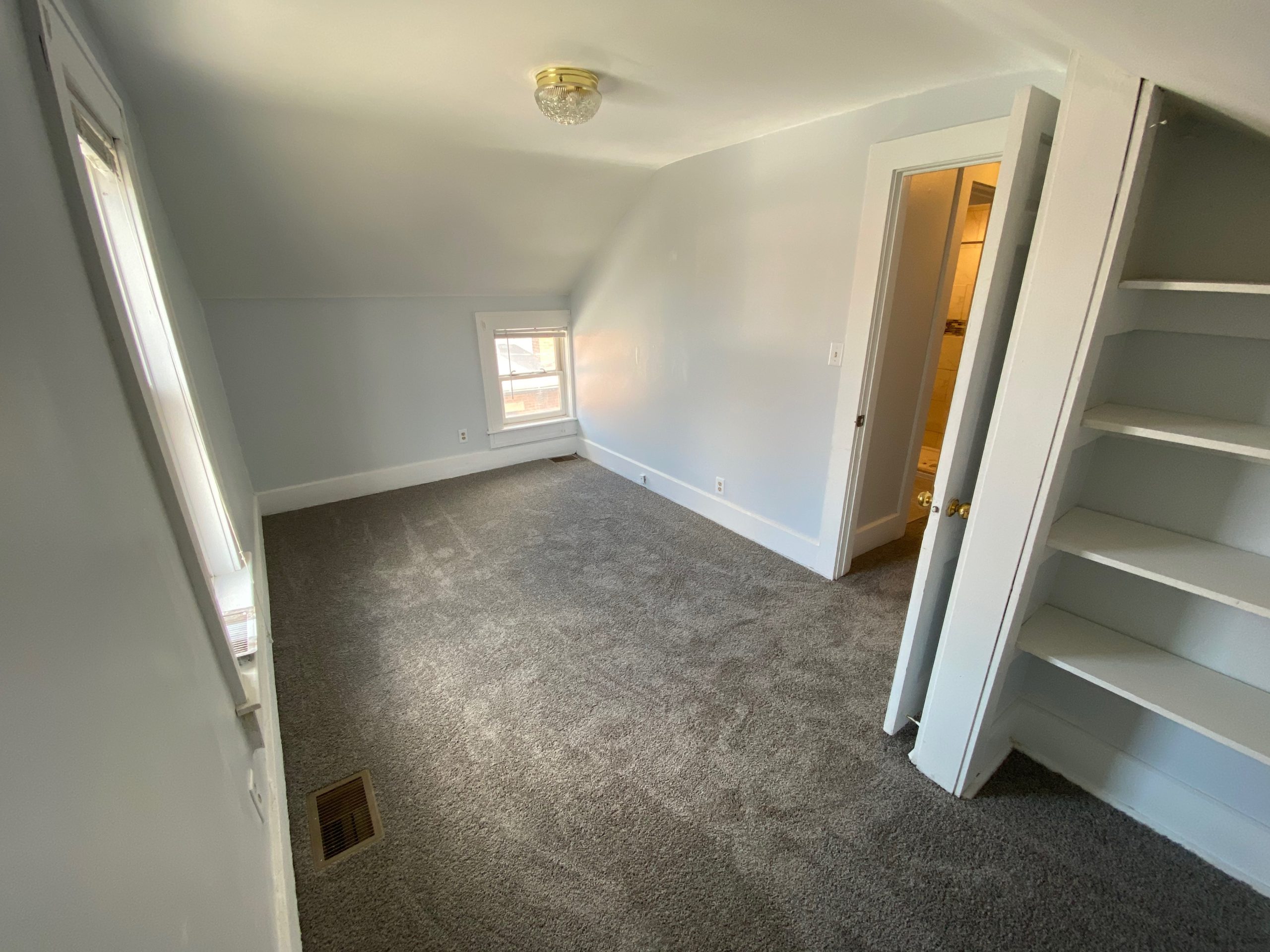 Bedroom After
New carpet upstairs in bedrooms and fresh paint throughout the entire house.
Renovations on the Marienplatz were completed in early July 2020.
Interior renovations began shortly after on 145 E Livingston which houses the other 4 suites.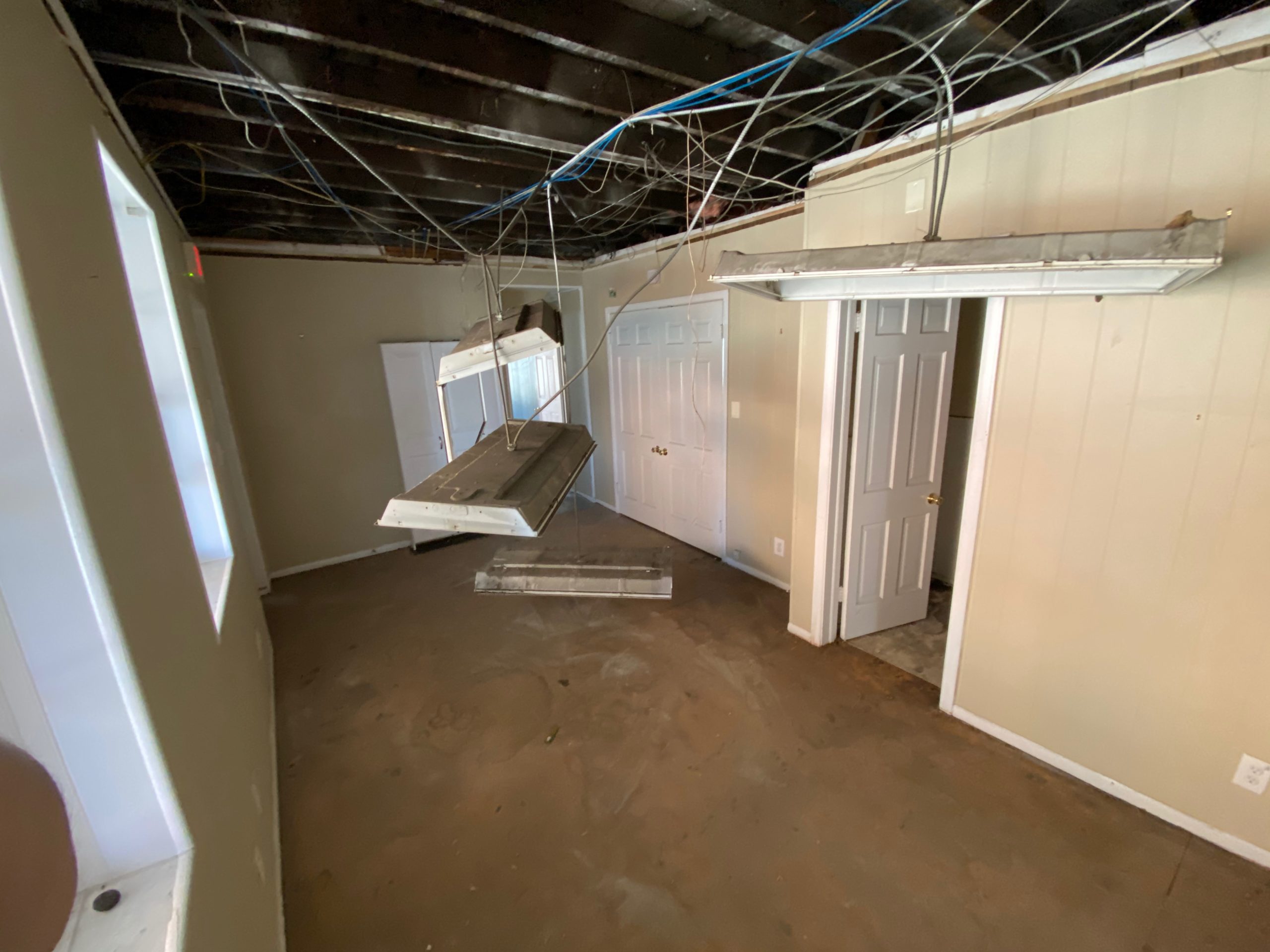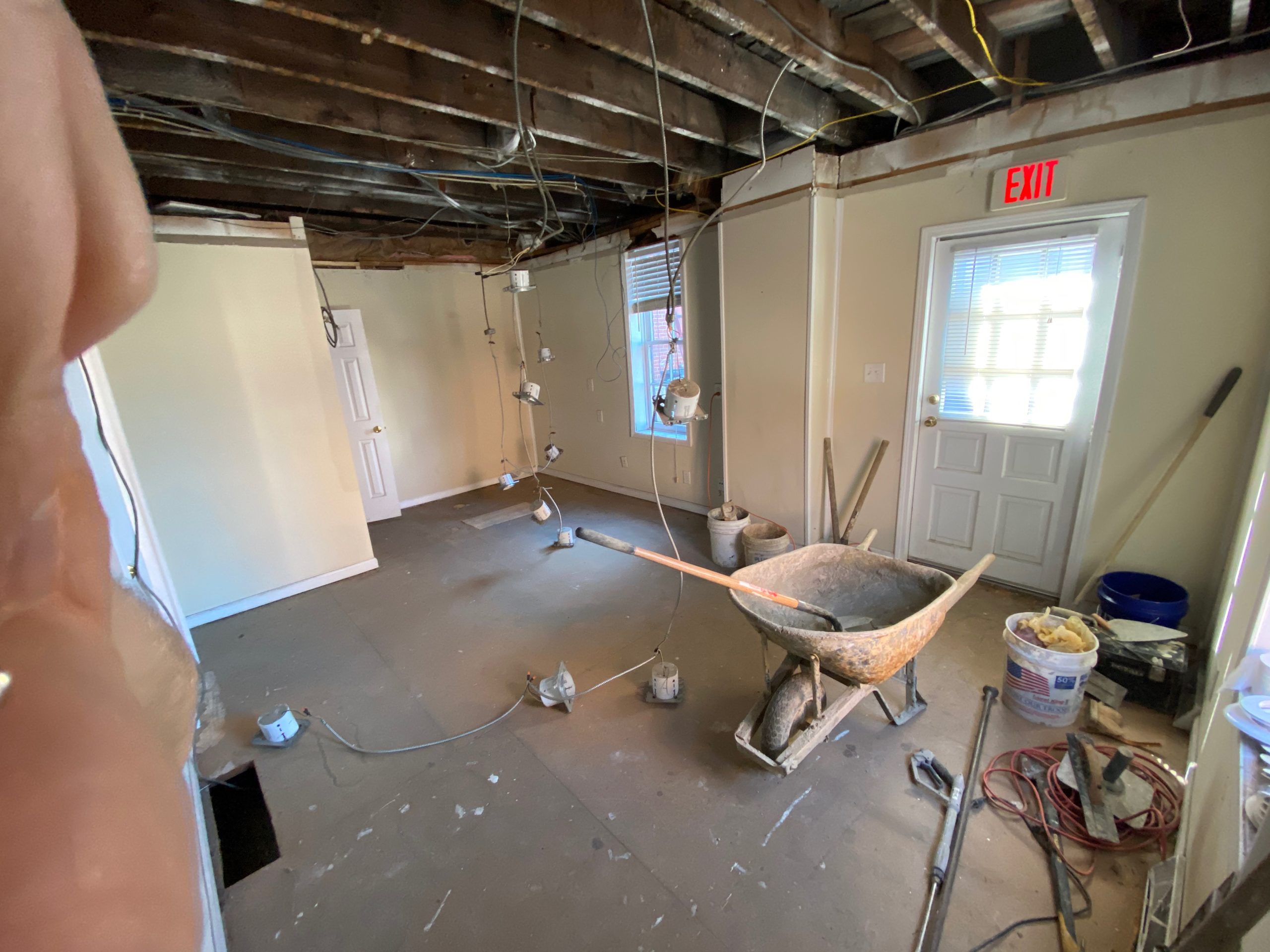 Suites A & B after demolition
Demolition team removed all drop ceilings, flooring, trash and fixtures from the building in March 2020.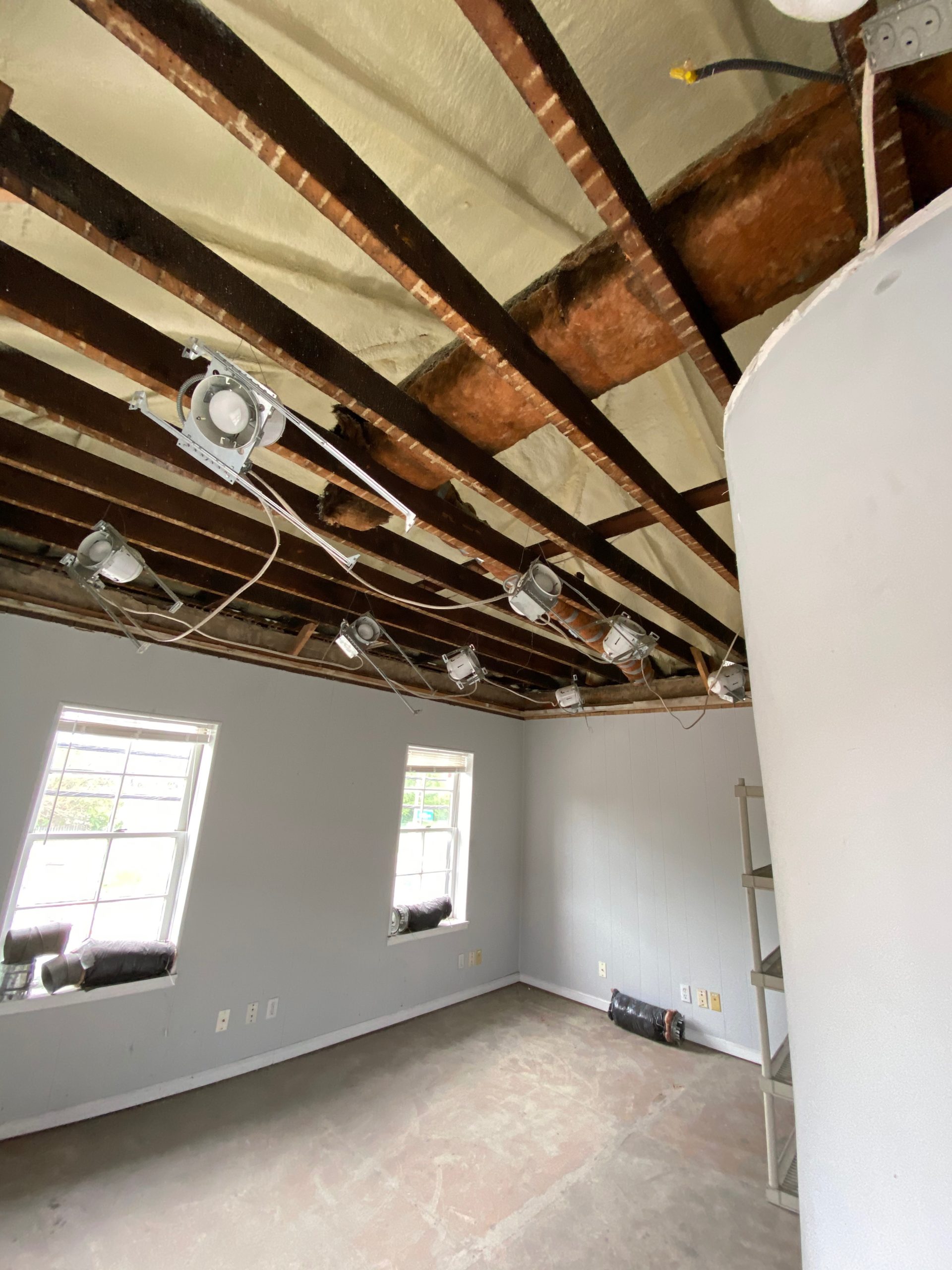 Suite C with newly spray foamed ceiling
The ceiling of the entire building was spray foamed to insulate for both temperature and sound.
At the same time, masons came in to tuckpoint the brick facade of the entire building and fix a few loose stairs.  The masons needed water to mix mortar and we discovered the building was in need of a new main water line.
The water line replacement issue became known about 2 weeks after Ohio had begun lockdown for the COVID pandemic.  I found a list of licensed Columbus contractors and called 41 water/sewer line contractors.  1 person actually answered the phone and 1 person returned my call.  I got the 2 quotes and went with the best one.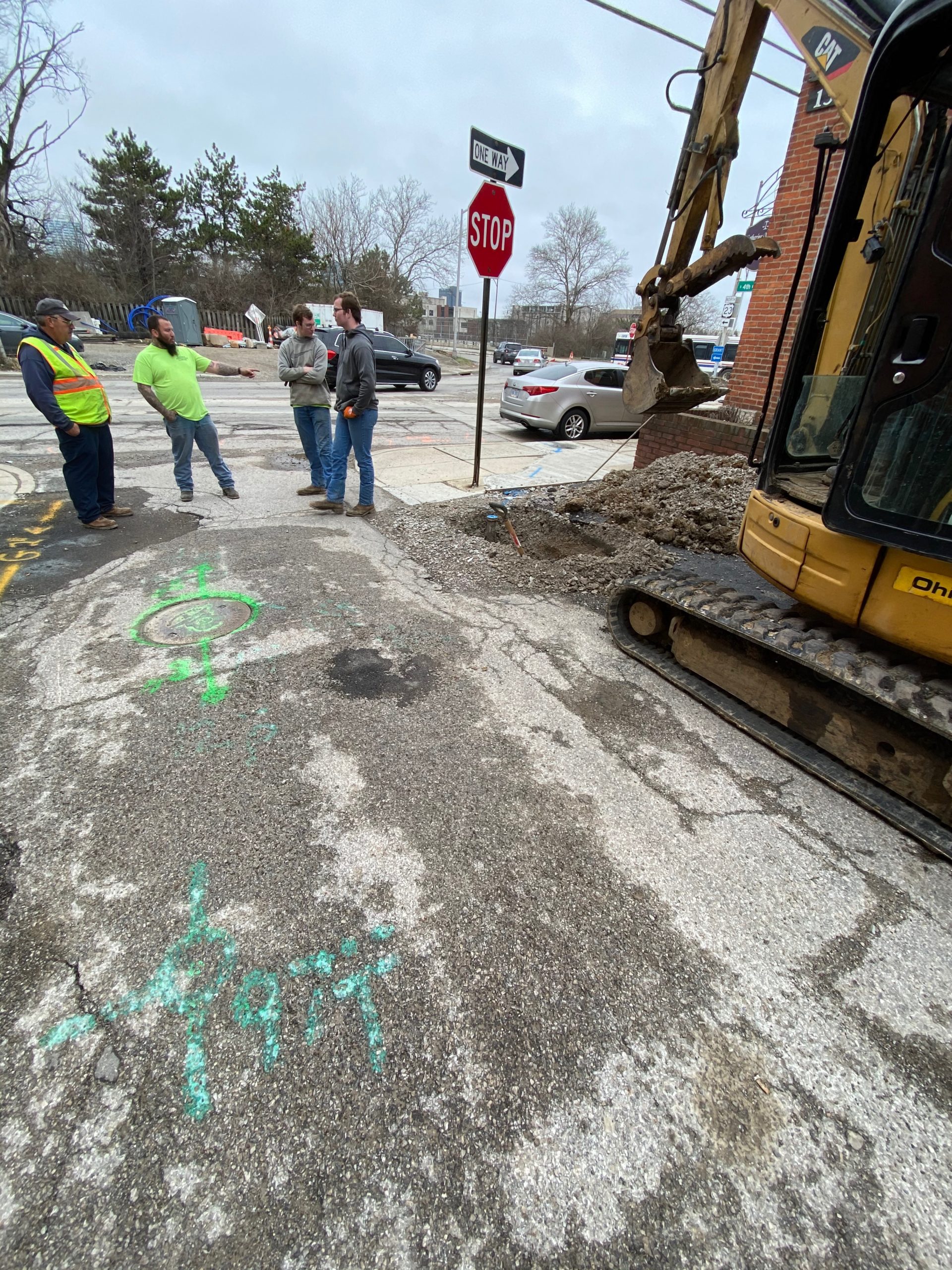 My contractors getting shut down by a city inspector for an improper alley permit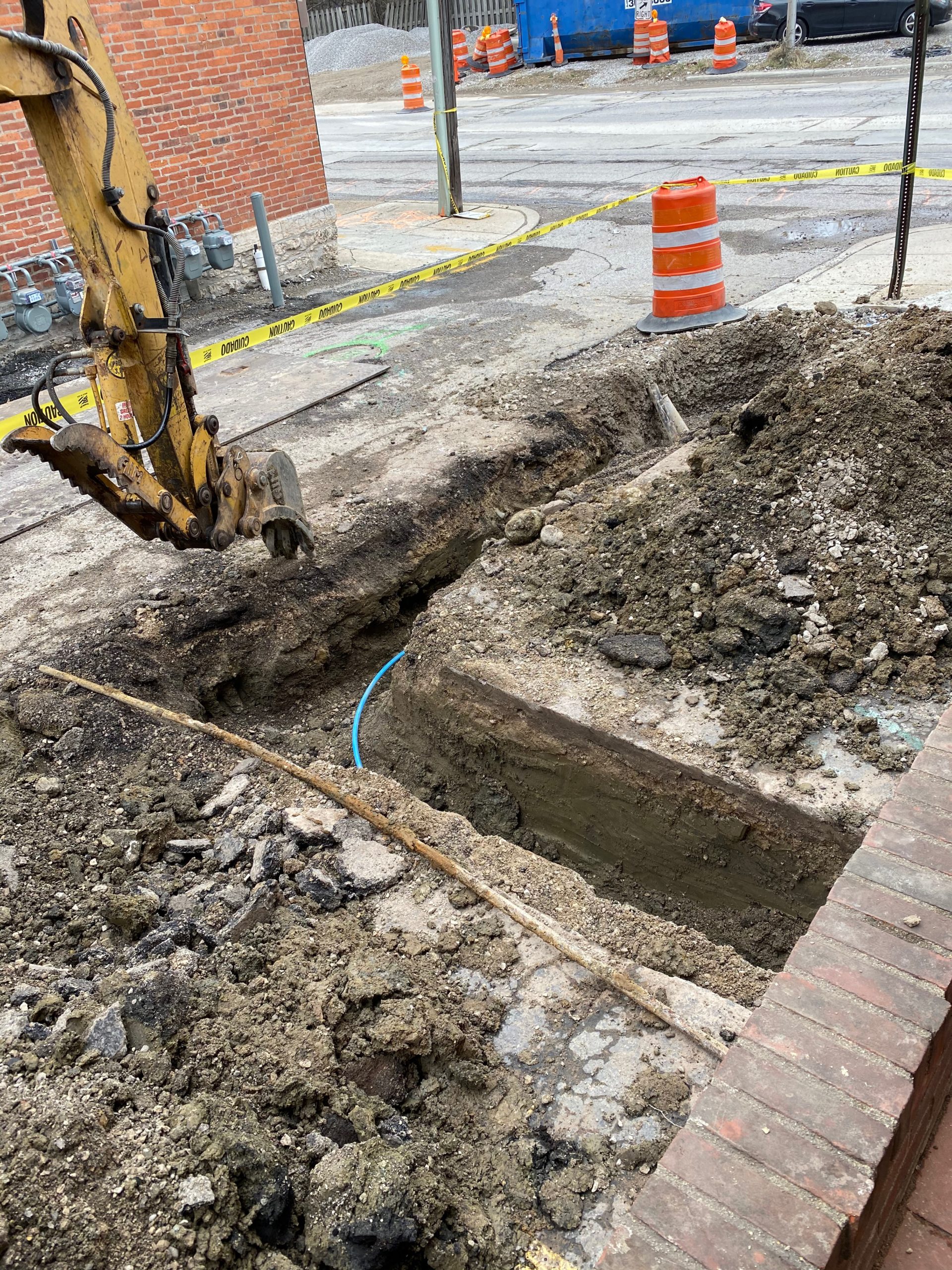 New main water line going in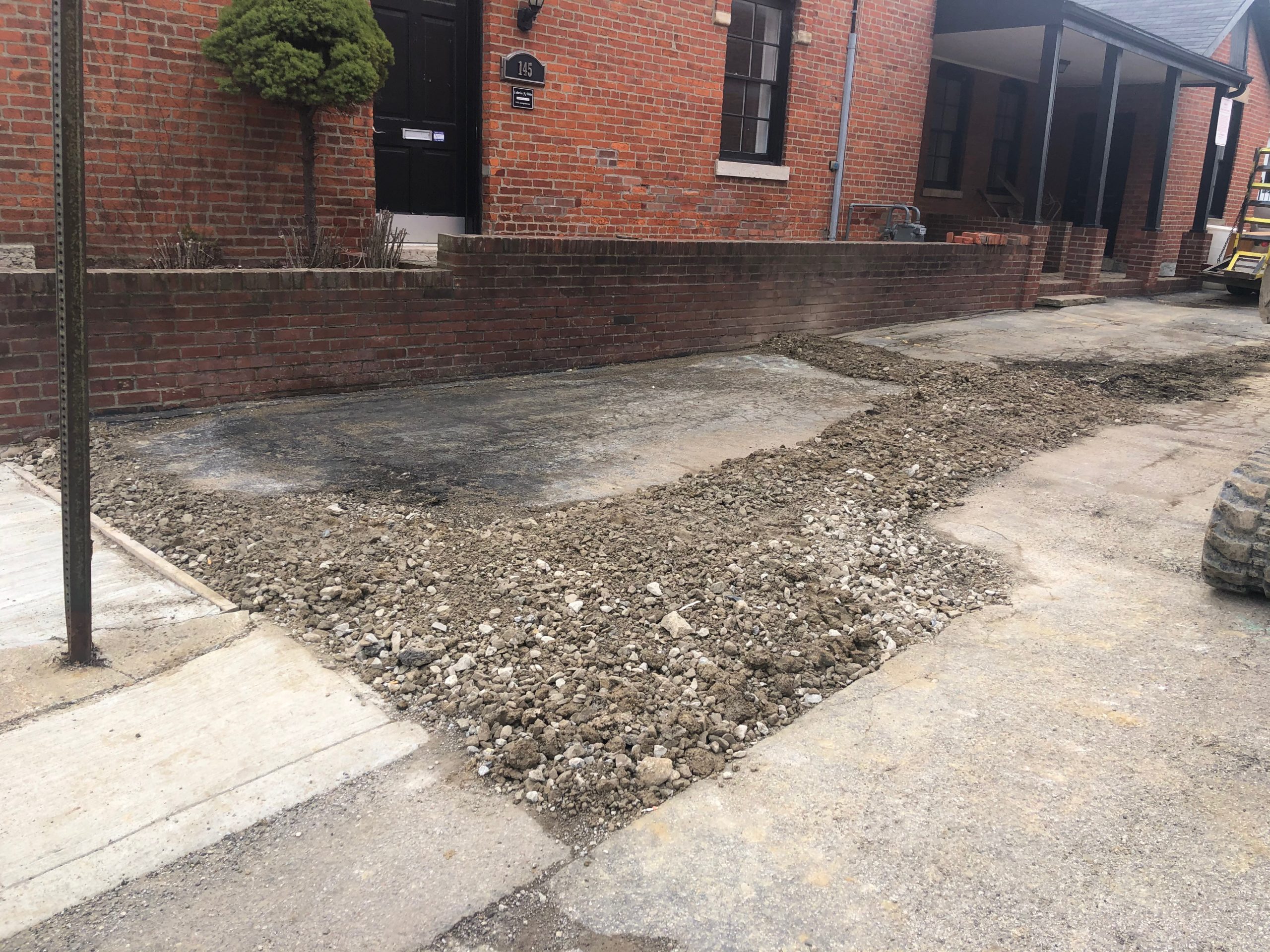 Main water line replaced and back filled
There was a rush to try to get the water back on for the masons and also contractors who were drywalling in 500 Margraff.  Due to weather and normal contractor delays, it took about 10 days longer than anticipated to get started.  Everything started well on the actual replacement day.  The contractors were about an hour in when a city inspector who was working on the Livingston project came by and shut the project down.
My contractors called their boss (owner of the company) who showed up, had a brief argument with the inspector over what permit was needed and decided his time was better spent working on the required permit.  The permit office had stopped accepting walk-in visitors at this time but my contractor had the contact information for the correct person in the permit office, so he was able to get our permit expedited.  Work was able to resume 2 days later when the proper permit was issued and the job was finished the same day.
This was unfortunately not the last surprise in the project…
The masons resumed working.  I had been quoted 3 men working for 10 days to complete all the repairs.  What I got was the owner and his 12? year old son working and his brother-in-law showing up on occasion.
Meanwhile renovations continue in Suites A & B.  The spray foamed ceiling was painted black, new drywall was put up, new overhead lights installed, new LVP flooring installed.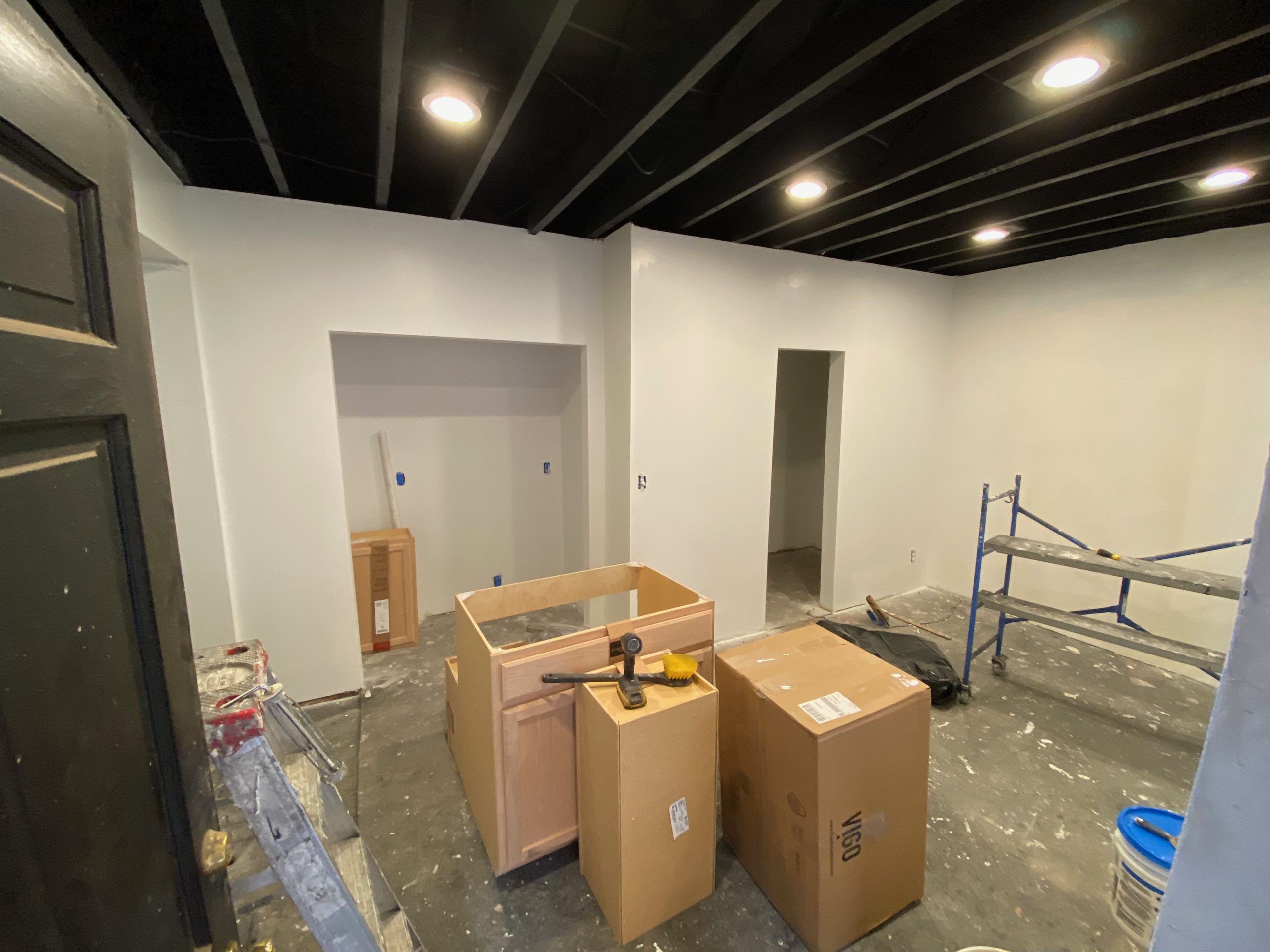 Suite B with ceiling and drywall done.  Getting ready for cabinets and floors.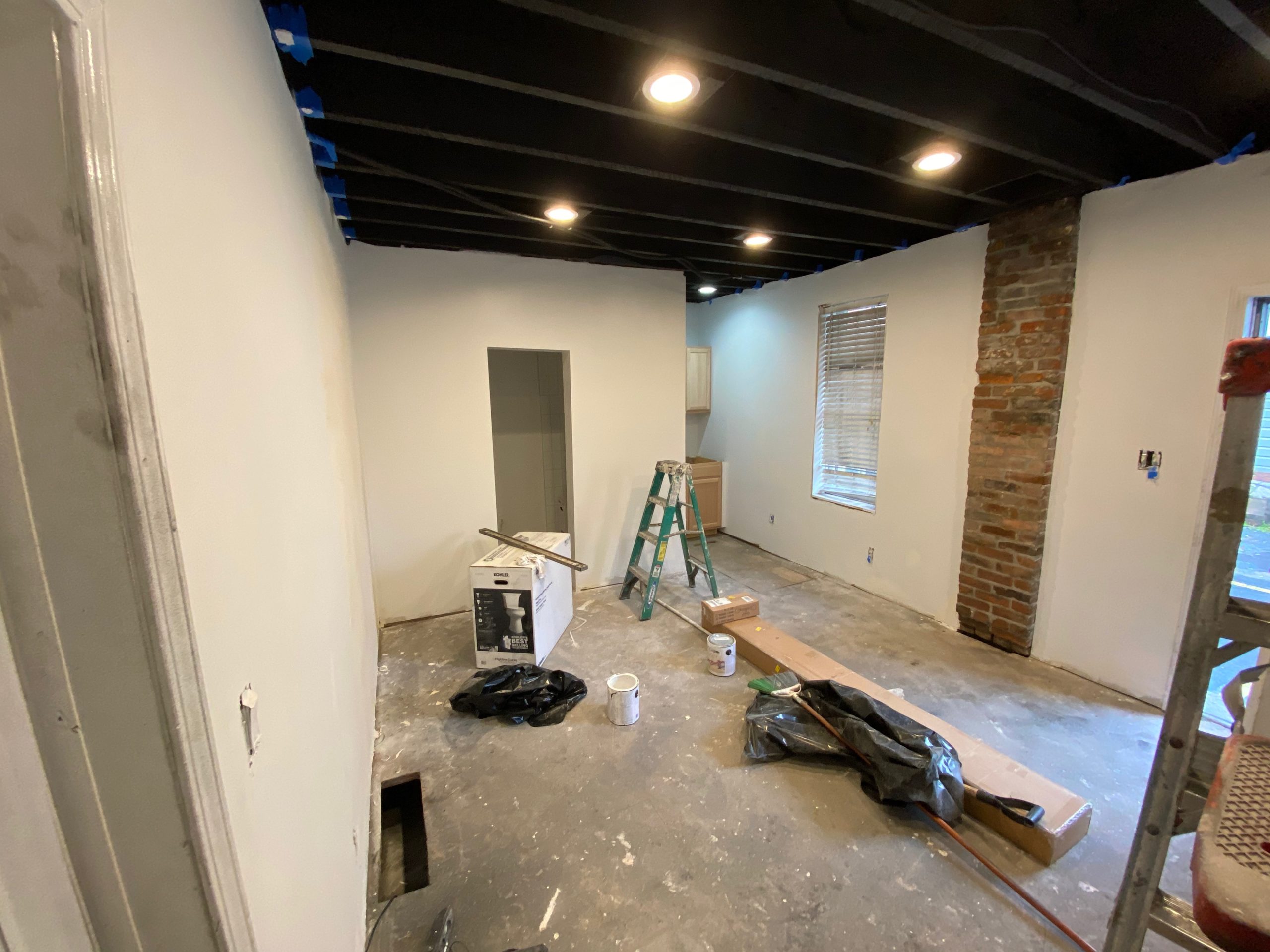 Suite A at the same point.  Was able to expose some original brick.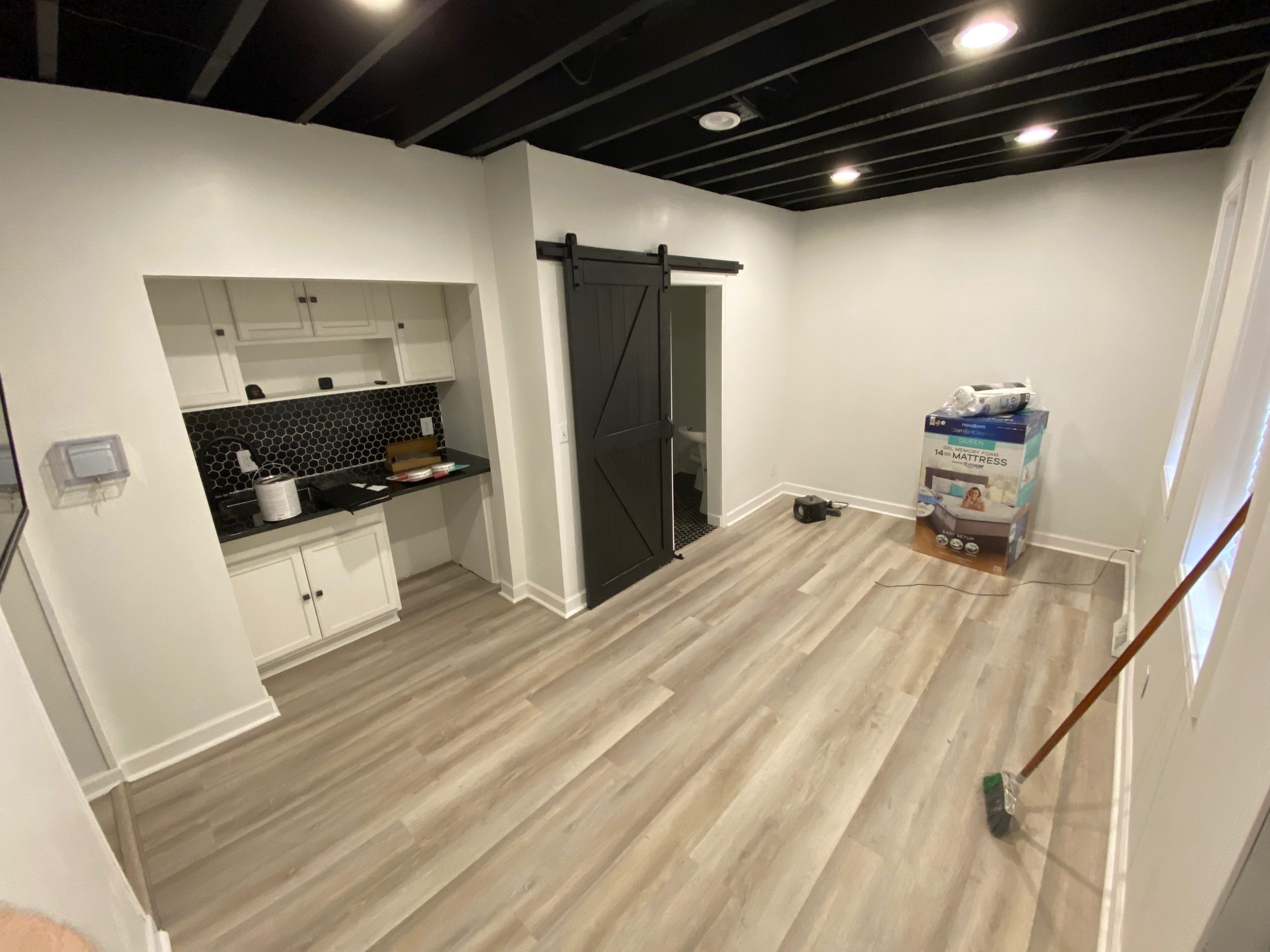 Suite B with floors, kitchenette and bathroom barn door installed
The remaining work came together quickly and Suites A and B were finished at the end of June 2020.  Furnishings were added soon after and the units went live on AirBNB.
My contractors moved on to a couple other projects while we tested these units.  A decision needed to be made on whether to use them as office or residential space.  The units performed well and my contractors returned in October to finish Suites C & D.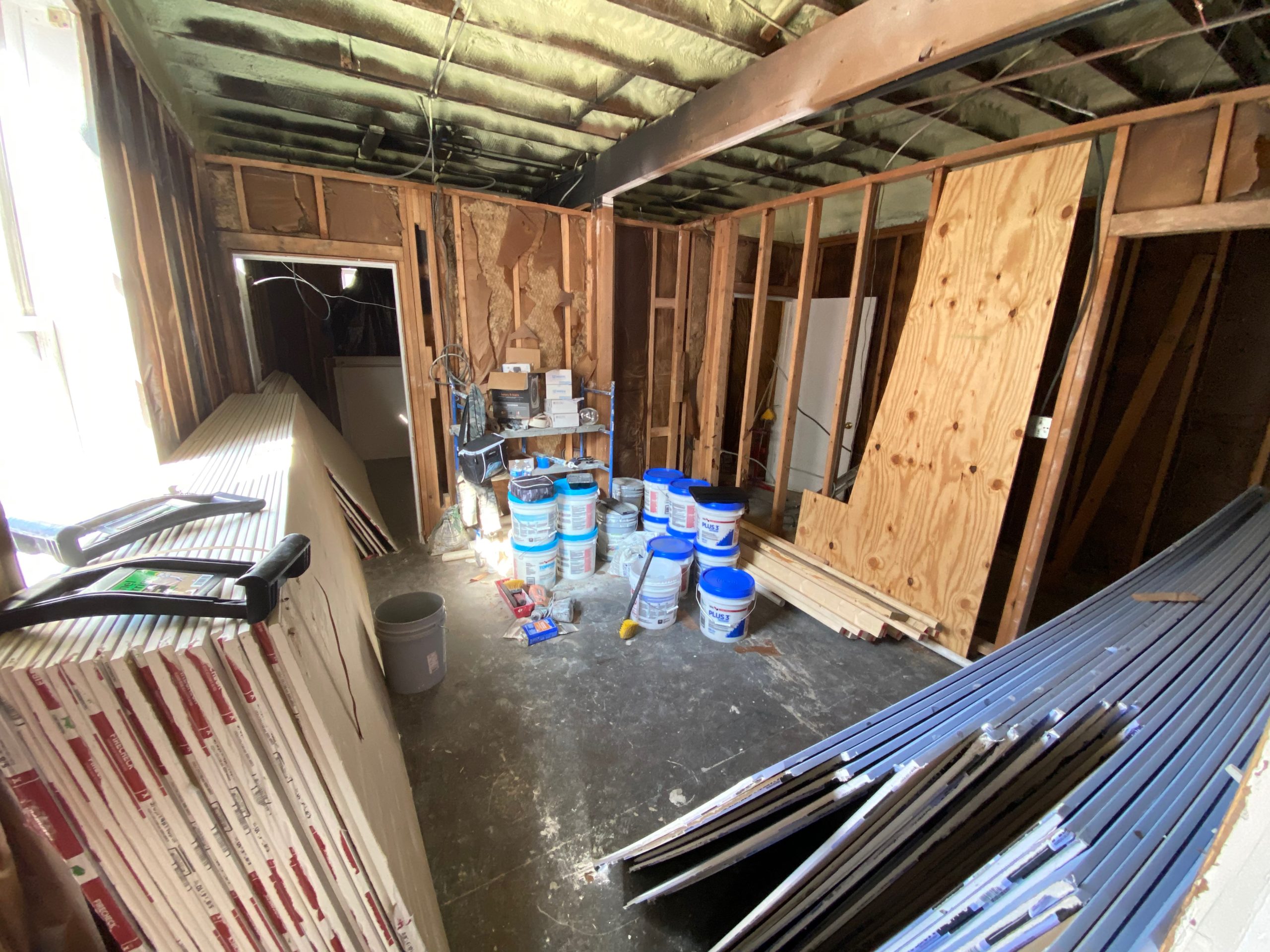 Suite D ready for drywall after we moved some walls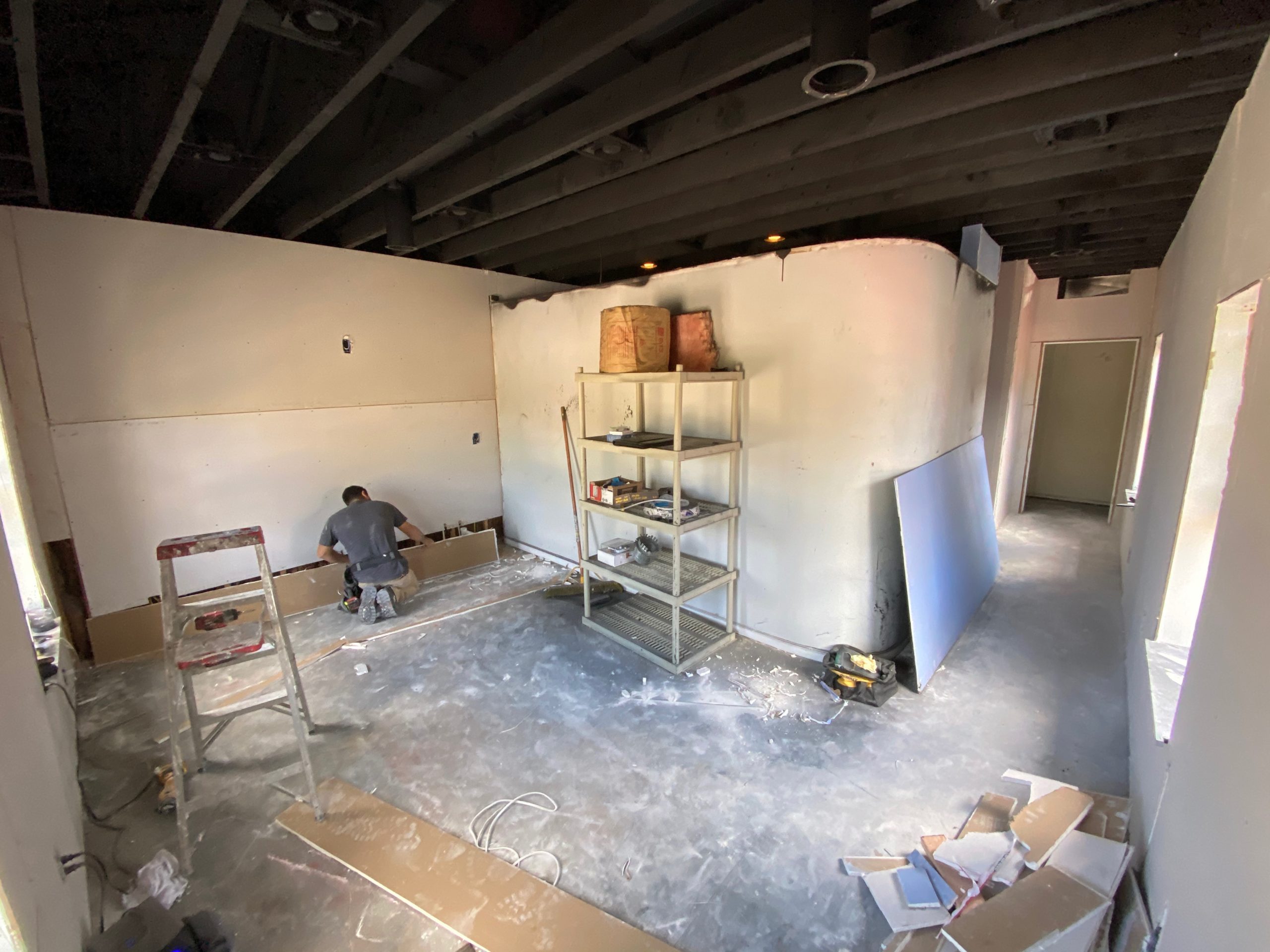 Suite C with ceilings painted.  Working on drywall.
New HVAC system in Suite C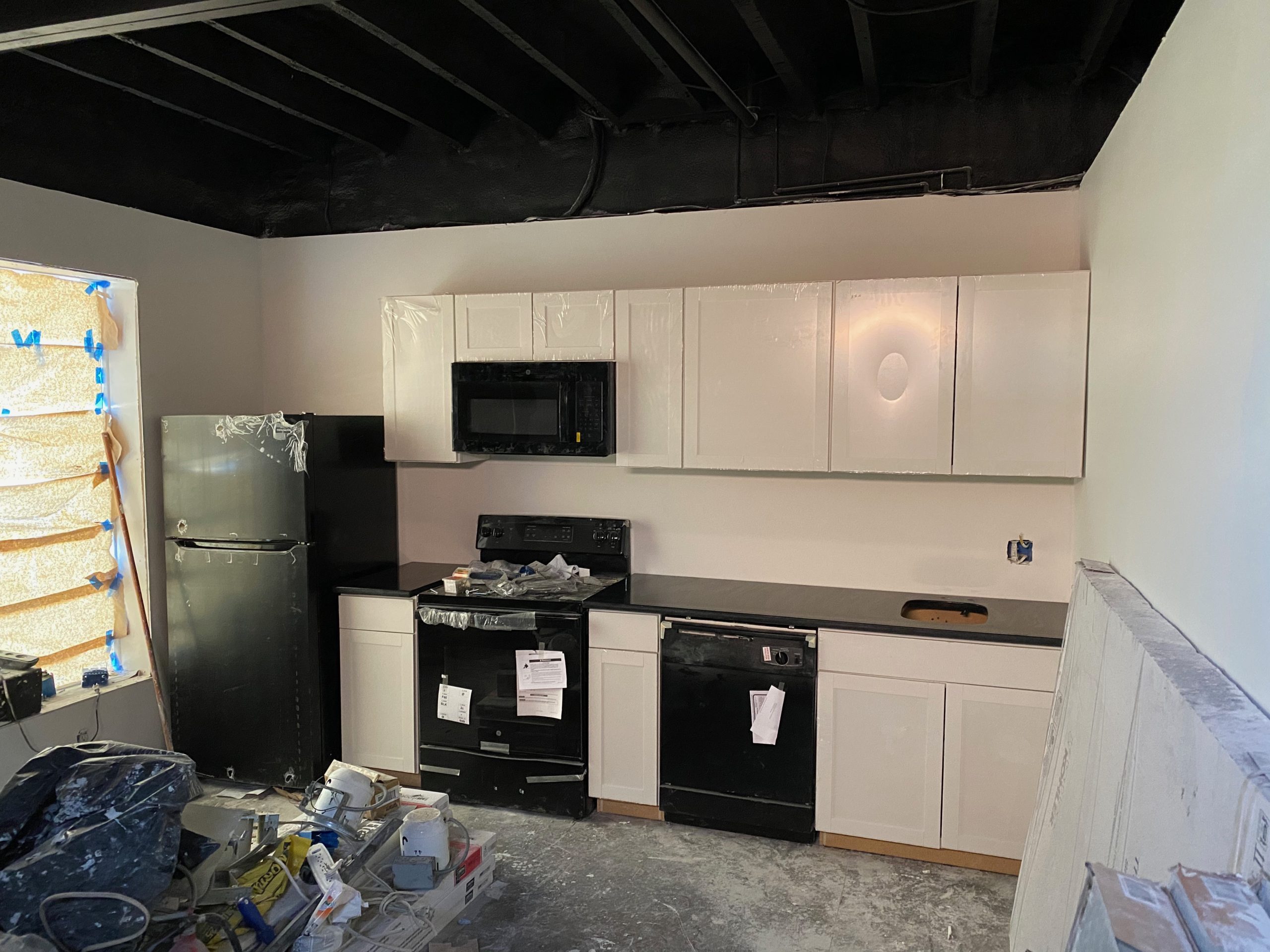 Suite D with appliances, cabinets and countertops installed
About this time in the project, guests began having issues with water backing up in Margraff.  After trying a couple times to clear the line, we ran a camera and discovered the pipe had holes in it.  A new sewer line was needed.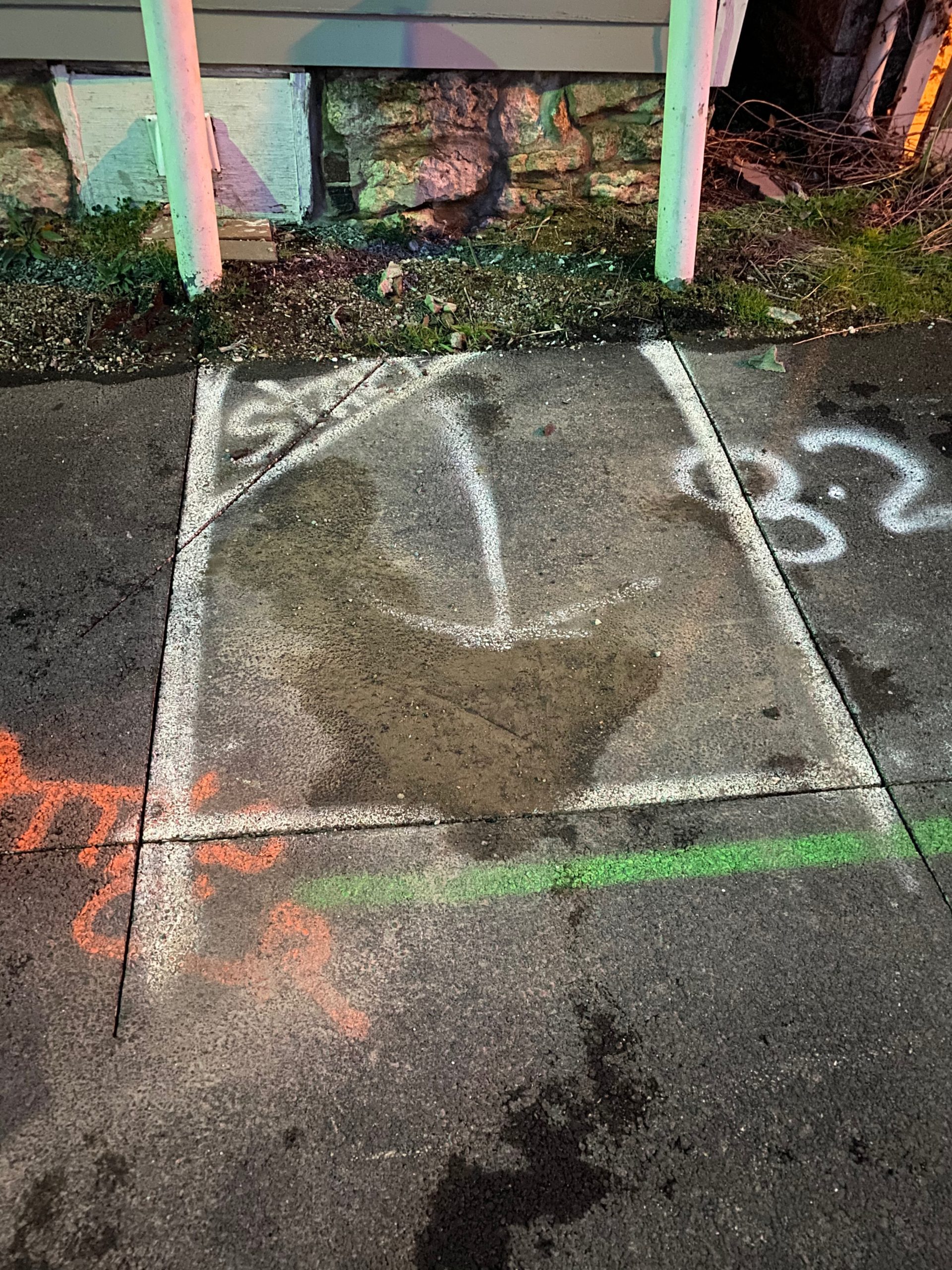 Prepping to excavate after buying a VERY expensive permit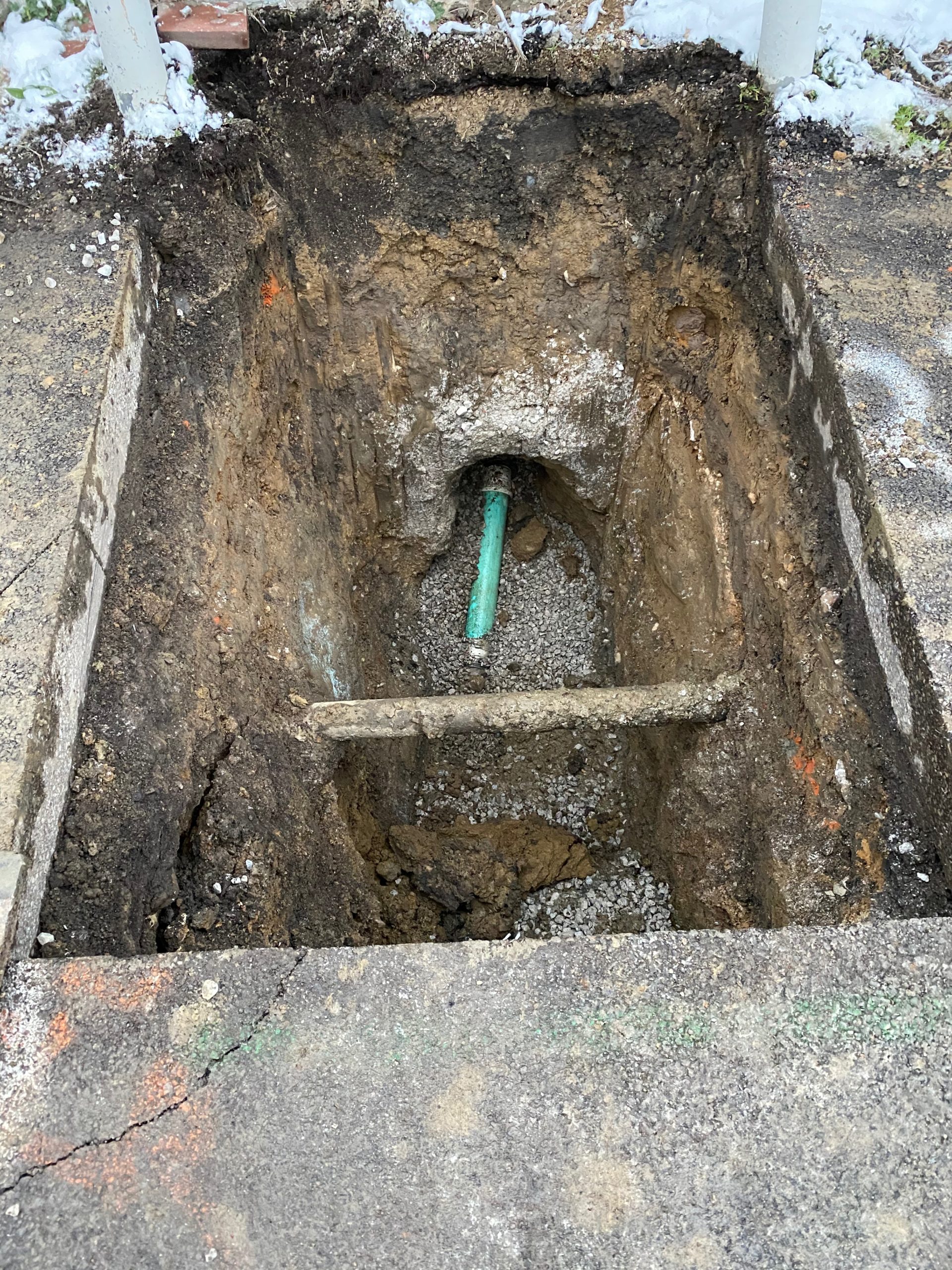 The sewer line with an old gas line running perpendicular.  Had to hydro excavate around it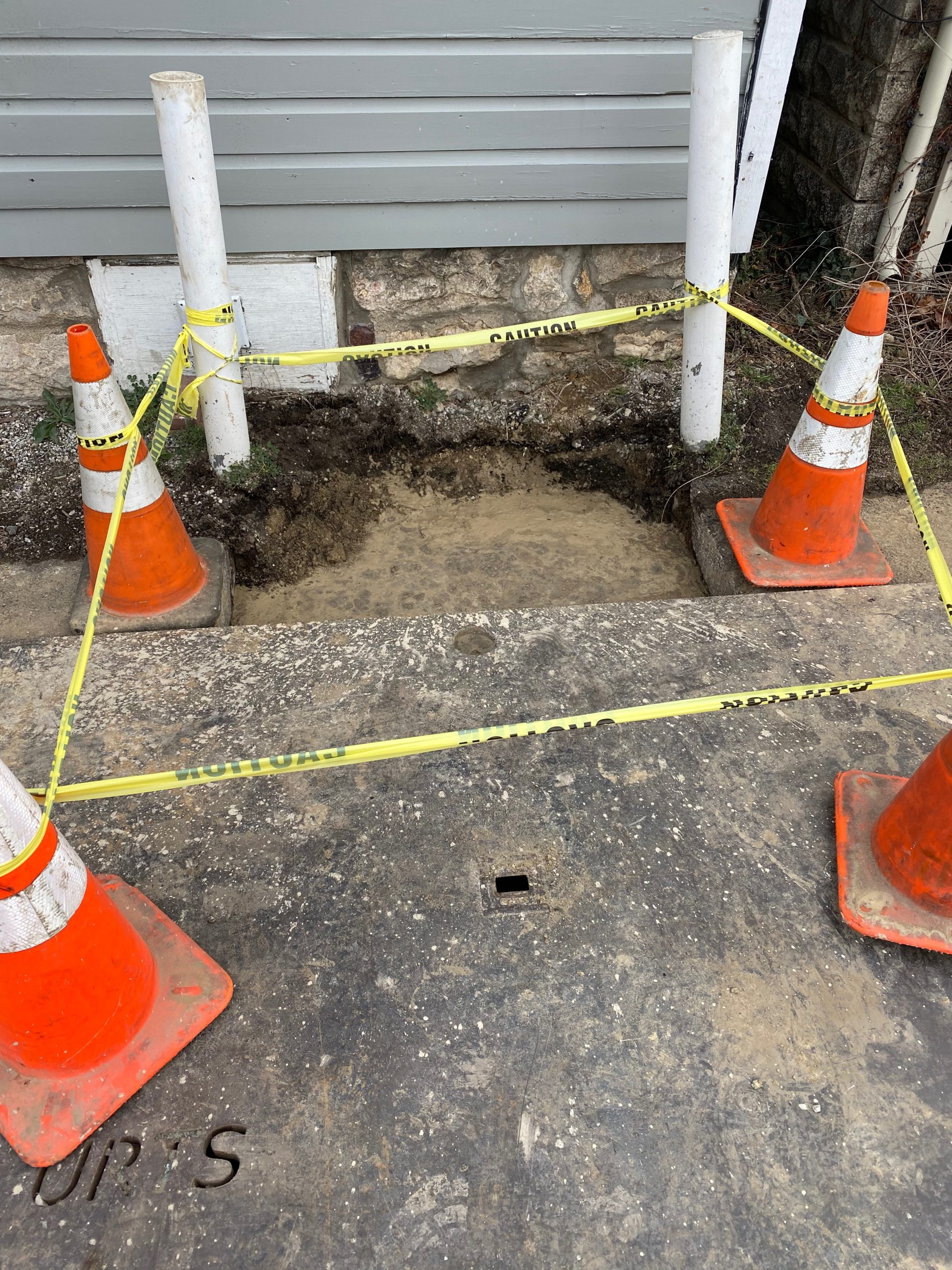 New line installed and ready for blacktop
The new sewer line was installed in December 2020 and Suites C & D were finished a few weeks after.  Those suites were furnished and also placed live on AirBNB.  You can see pictures of all finished spaces in their individual pages.